Authority Grain Free Kitten - Chicken & Potato Review
---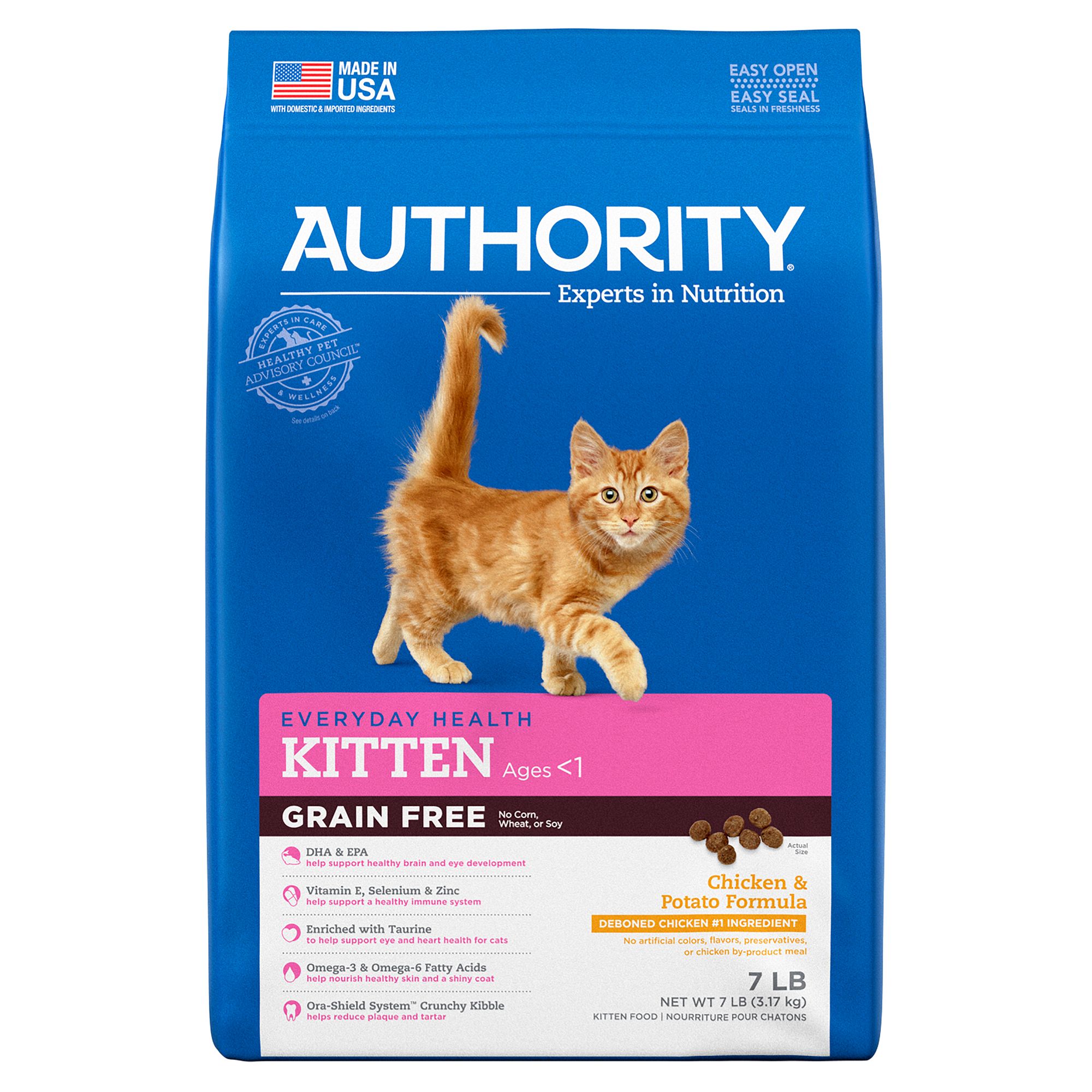 Quick Analysis
Ingredients:
Nutrition:
Potential Allergens:
eggs
Est. Calories:
372 cal/100g
Overall, Authority Grain Free Kitten - Chicken & Potato is an above average cat food, earning 7 out of a possible 10 paws based on its nutritional analysis and ingredient list. For more information on our cat food analysis techniques, please click here.
Please note that CatFoodDB may earn a small commission on purchases made via links on this site. Thanks for your support!
---
Ingredient Analysis
When evaluating a cat food, the first five ingredients can tell you a lot about the quality of a product as they make up the bulk of the product. Ideally, you're looking for quality protein sources with a minimum of cheap starches, fillers or by-products. Continuing down the ingredient list, look for ingredients that resemble real food with a minimal number of unpronounceable chemicals - the same as you would for human food.
Authority Grain Free Kitten - Chicken & Potato includes the following:
Quality Ingredients
deboned chicken
chicken meal
Questionable Ingredients
None
Note - a bolded ingredient in the above tables indicates it is one of the first five ingredients listed by the product manufacturer.
In this case, Authority Grain Free Kitten - Chicken & Potato's most plentiful ingredient listed is
deboned chicken
, which is considered a quality protein source. It also contains
chicken meal
as additional quality protein sources.
Additionally, it's worth noting that this product does not list either by-products nor bulk-adding fillers within its top ingredients. By-products are considered inferior, lesser quality ingredients. Common fillers typically used to add bulk to the product are not required in your cat's diet. Together, their combined absence may be indicative of a higher quality product.
Allergen alert: This product contains dried egg product which may be problematic for cats who suffer from eggs food allergies.
---
---
Nutritional Analysis*
Compared to the other 3124 cat foods in our database, Authority Grain Free Kitten - Chicken & Potato has:
In general, cats have been shown to do better with a higher protein, medium fat, lower carb diet with sufficient moisture. However, specialty diets as recommended by your veterinarian may prioritize a different nutritional breakdown.
Calorie Breakdown
Using the calculations provided by the AAFCO, Authority Grain Free Kitten - Chicken & Potato has approximately 372 calories per 100g (105 calories/ounce), which is an average amount of calories compared to the average of the other dry cat foods in the CatFoodDB.
---
All the product information on this page is based on data collected from the manufacturer's product website as retrieved on December 23, 2019.

The authoritative source for ingredient lists and nutritional analysis for any pet food is always the pet food manufacturer.
---
Ingredients
Ingredients as published by the cat food manufacturer:
Deboned Chicken, Chicken Meal, Dried Peas, Dried Potatoes, Chicken Fat, Pea Protein, Potato Protein, Dried Egg Product, Dried Plain Beet Pulp, Natural Flavor, Calcium Carbonate, Fsh Oil, Inulin, Dicalcium Phosphate, Choline Chloride, Vitamins (Vitamin E Supplement, L-Ascorbyl-2-Polyphosphate, Thiamine Mononitrate, Niacin Supplement, Vitamin A Supplement, D-Calcium Pantothenate, Pyridoxine Hydrochloride, Riboflavin Supplement, Folic Acid, Vitamin D3 Supplement, Biotin, Vitamin B12 Supplement), Potassium Chloride, Sodium Hexametaphosphate, Salt, Minerals (Zinc Sulfate, Ferrous Sulfate, Copper Sulfate, Manganese Sulfate, Sodium Selenite, Calcium Iodate), Taurine, Rosemary Extract
---
Guaranteed Analysis
Nutritional information as published by the cat food manufacturer.*
Protein:
34.0%
Fat:
19.0%
Fiber:
3.5%
Carbs:
26.0%
Ash:
7.5%
Moisture:
10.0%
Dry Matter Analysis
The manufacturer's published guaranteed analysis values normalized for moisture content.
Protein:
38%
Fat:
21%
Fiber:
4%
Carbs:
29%
Ash:
8%
Calories:
372/100g
*Note that some nutritional percentages reported are only estimated values, and are indicated as such as (est). Each cat food manufacturer is required by law to publish a Guaranteed Analysis, which defines each product's maximum values of fiber, moisture and ash in addition to the minimum values of protein and fat contained within. Exact nutritional percentages are not available and hence all calculated values (including carbohydrate percentages and calorie amounts) are determined using these minimum and maximum published values and therefore may differ from actual values.
Although a high score may be indicative of a higher-quality product it is not a guarantee. Similarly, a low score may or may not indicate an inferior product. The best food for your cat is the one that meets their individual needs.
---